Hi graphhopper developers,
first of all many thanks for your work, you made a great product!
I'm struggling now with some issues in routing behavior at borders of area specified in some osm.pbf file. For example in belgium-latest set (https://download.geofabrik.de/europe/belgium-latest.osm.pbf). If I use current master version of engine and calculate a route, that starts/ends near the border some segments of highways will be completely ignored. Example:
51.318109,5.206108
51.340974,4.346639
profile - car, config - standard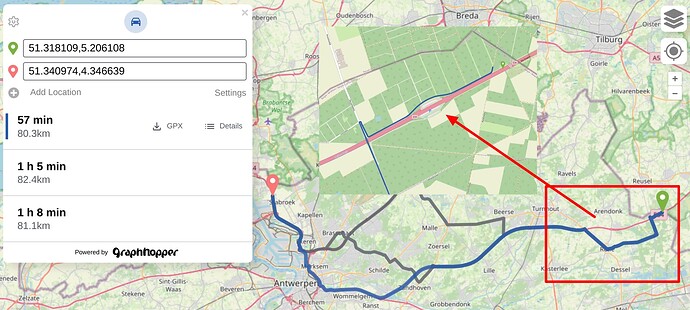 With version 7 I get similar results.
But if I put some buffer to dataset and use custom osm file like Belgium + 100km buffer - all highways will be routed fine. Unfortunately this workaround is not the option for the current project I'm working on, because of additional resources.
I'm wondering if it's some problem with osm data or in graphhopper logic, because all these segments are present in sets, but are ignored during routing.
Appreciate your support and have a great day!