Hi Graphhopper Team,
I am using the navigate endpoint to get driving direction to use with the Mapbox SDK.
I saw an unexpected beahviour in this query:
http://localhost:8989/navigate/directions/v5/gh/fastest/15.4805824,46.9185026;15.4630814,46.981762?access_token=dummy&alternatives=false&geometries=polyline6&steps=true&bearings=200,10;&language=de&roundabout_exits=true&voice_instructions=true&banner_instructions=true&voice_units=metric
My goal was to enforce the routing to one direction using bearings and I expected that a route is provided in which multiple left or right turns are provided to go back to the destination, that lays in the opposite direction.
What I got is anyway a uturn as first manuever. Moreover the information about the uturn is not passed to the user in form of a banner or voice information (see attached file).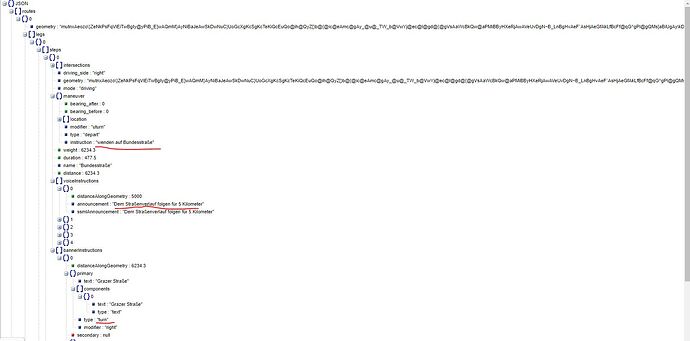 i tried to pass other parameter accepted by Mapbox V5 (like avoid_manouver_radius) but i see no changes in the results.
Graphhopper version: 7.0 Release run locally
Profile: fastest with turn cost=true and uturn cost =360
Query sent through Postman
Am I missing something?
If I try the same with the route endpoint (of course changing the parameters to use the right one) I get the expected behaviour.
Thanks in advance,
Ale