Hi all!
I am responsible for solving an issue in our self-hosted Graphhopper routing engine.
The person who implemented this is unfortunately no longer available for any questions.
Therefore, I am now turning to you to see if you might be able to guide me to a solution.
When creating a route without any avoid parameters (we just want the fastest route) everything seems to work perfectly. There however is a very minor yet annoying issue.
The created route follows the highway (as expected for the fastest route) but prefers to drive through gast stations or other exits to immediately merge back onto the highway again.
Example: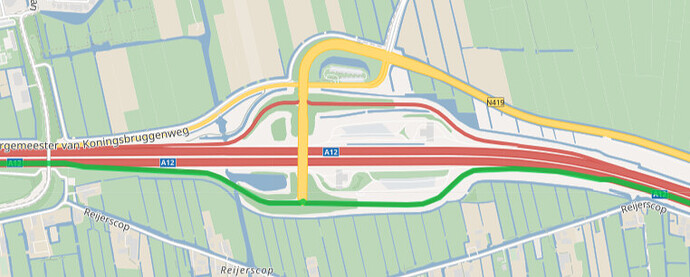 It would be nice if this behaviour was consistent but obviously it is not.
Here it would be possible to leave the highway and join right after, but it doesn't (as I expect everywhere).
I have no clue about where to even start debugging this issue due to the inconsistency of this issue.
Obviously I do not expect a immediate solution from this lovely community but you might be able to point me in the right direction.
The route I used to create the screenshots are from our local server.
It should match this route. The extra coordinates (besides start / end) were added to indicate where the issue occurs.
Maybe that helps in identifying what is wrong with our configuration / engine

Thanks in advance!