Hello to everyone,
I built a RailFlagEncoder suposed like here for my tracking usecases.
I would like to use different vehicles(trains and cars) to show tracking on the map.
It worked properly with a single profile, but when i use a combination of both rail and car profile in the same map matching application (graph.flag_encoders=rail,car), I got the problem shown in the picture. here visualised by graphhopper maps(GraphHopper Web)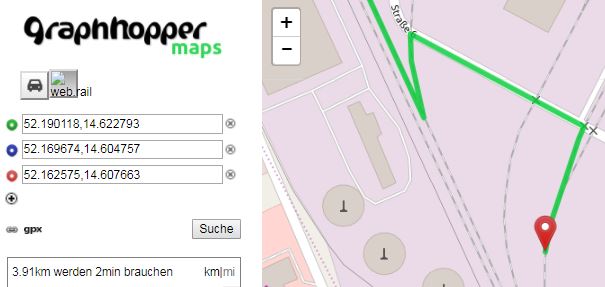 http://localhost:8989/?point=52.190118%2C14.622793&point=52.169674%2C14.604757&point=52.162575%2C14.607663&locale=de-DE&vehicle=rail&weighting=fastest&elevation=false&use_miles=false&layer=OpenStreetMap
I would like to know:
Is it possible to have one graph-cache for car and rail at the same time?
can I use different customised FlagEncoders for railway or highway osm-tags in the same graph-cache?
thank you in advance for your help.