Hello!
I've developed GTFS routing application using Open Source Routing Engine but I've got a problem. According to departure time I've got different best routes but I can't get alternative routes in some cases. In example below best route is by bus and best route for departure time 1 minute later is by metro, but in both cases alternative routes have lost.
How to configure GraphHopperGtfs (may be Request) to get all the results in 1 response (including all alternatives)?
How to set priority of staying in current vehicle (passenger should not transfer)?
Is there option to set default transfer time for all routes?
Where to find PMap keys description (source code or docs) for configuring request (e.g. maximum result count, minimum / maximum transfer time).
Example:
Bus (departure time = 2022-03-25T09:59:00)
Metro (departure time = 2022-03-25T10:00:00)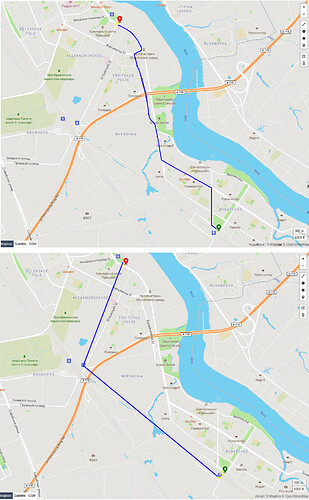 Sincerely, Dmitry.