As a bit late birthday party we invite you to test our newly integrated Isochrone API having latest ETAs improvements, all vehicle types are supported and a new reverse_flow parameter. Furthermore the Isochrone API is updated roughly every 1 to 2 days like the rest of the Directions API.
The Isochrone API calculates the reachability of a certain location and can be used to determine the real reach of a super market or for visualisation purposes and more. And can look roughly like this if three 'reachability polygons' are calculated: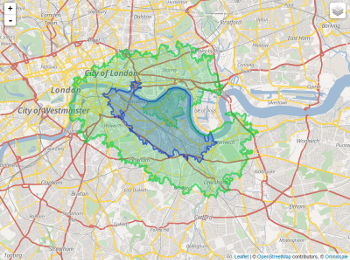 Use this link to get access to a free standard package for one month including the Isochrone API with 30 minutes exploration (time_limit).
Let us know your thoughts, problems and questions you have. Either here or via Email.
The new reverse_flow parameter makes it easy to calculate the reach of a location into the region (reverse_flow=false) or the reach of your audience towards a location, e.g. if you want to know which area or audience can go to the planned super market in 5 minutes.
The calculation for the credits are currently calculated like 5 credits per 1 minute exploration. For updates please visit our FAQ.