Point A - 17.369413,78.429215
Point B - 17.365573,78.428822
The distance between the following locations using graphhopper version 0.13 is approx 450m for all vehicle profiles.
However, after upgrading the version to 4.0, it can be seen that the distance is around 13 km for car profile and for the other profiles, it is still 450m.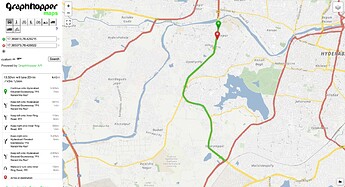 It is observed that for other profiles even for the vehicle type truck, the route returned is just 450m.
Is there any specific reason why it is returning a larger distance only for car profiles and what change/restriction is causing the distance difference between the 2 versions?